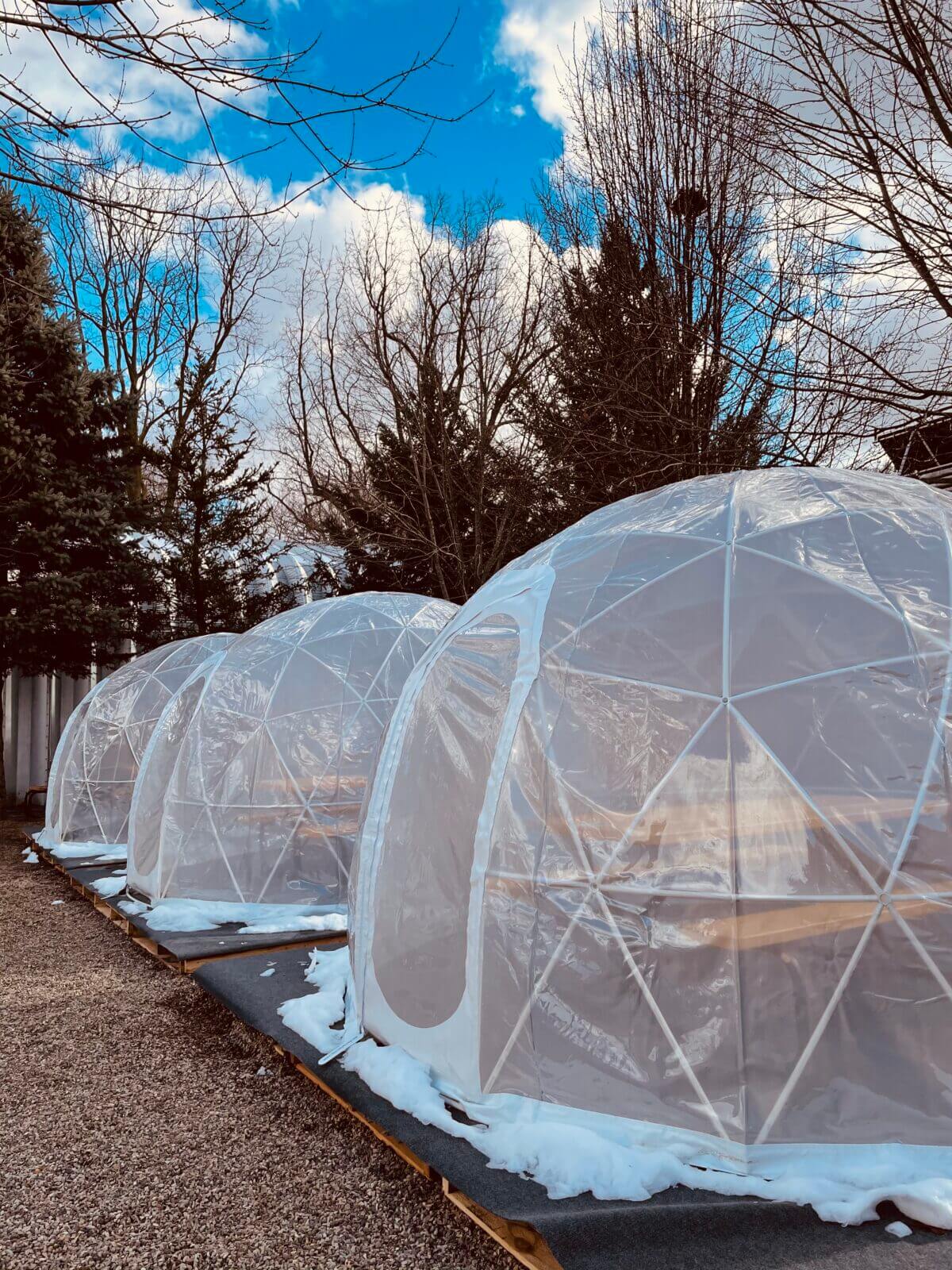 A winter beeR garden
Enjoy safe, outdoor dining in our new, heated igloos!
Our igloos seat up to six people from the same household and are decked out with heaters and lighting so you can enjoy them any time of day, in any weather. Wear proper outdoor layers, of course!
A $5 booking fee will reserve your igloo for up to 90 minutes. Igloos can be reserved two weeks out at a time. Reservations for the second week will become available on Mondays at 3pm.
BEER!
Below you will find information about what's available for guests dining outdoors with us and for people who want to pick up food and beer to go.
Here's a list of the six packs we have currently available for curbside pickup. To order, please call and pay over the phone. When you arrive to pickup your curbside items, please call us and we will bring your order to you. Thank you for your support!
Trail Lyte Raspberry Ale, (4pk) Liquid Vinyl Russian Imperial Stout, Buzzsaw IPA, Tilted Earth Autumn Red IPA, Tilted Earth Winter NEIPA, Euchre Pils, and Strawberry Blonde Fruit Ale.
Try something new!
Our tap list is always changing as our brewers get creative with new recipes, with the exception of our mainstay beers; Euchre Pilsner, Strawberry Blonde, and Buzzsaw IPA.
| Name | Style | ABV |
| --- | --- | --- |
| Liquid Vinyl- Orange & Chocolate | Russian Imperial Stout | 10 |
| Rainbow | Hazy NEIPA | 6.2 |
| Bake Sale | Double Milk Stout | 7.0 |
| Liquid Vinyl Anthology Series | Stout | |
| Infinite Snippid | Cider | 6.5 |
| Keeping Cow | Sour | 7.2 |
| Night Fox | Dark Amber | 5.6 |
| Faricy's Dry Stout | Stout | 4.5 |
| Huron Haze | Hazy IPA | 7.6 |
| Tilted Earth Series - Winter IPA | Hazy NEIPA | 6.2 |
| Strawberry Blonde | Fruit Ale | 6.8 |
| Buzzsaw IPA | IPA | 6.8 |
| Euchre Pils | German Pilsner | 5.5 |
| Arbor Classic | Blonde | 4.5 |
| Liquid Vinyl | Russian Imperial Stout | 10 |
| Arbor Cherry Cider | Cider | 6.3 |
| Arbor Heirloom Cider | Cider | 6.2 |
To Go: Our draft beer and cider is  available to take home in 64oz growlers and 32oz crowlers. We also sell six packs to go and 500mL bottles of our sour series.
FOOD TO GO!
 
Corner Brewery is open for outdoor dining as weather permits, curbside pickup and carryout. BEFORE ARRIVING, please read all of our new guidelines:
We ask you to follow our rules and expectations to keep our guests and employees safe.  If you cannot follow these instructions, you will be asked to leave the premises.  We will take any action we deem appropriate to ensure the safety of our staff and guests.  Thank you for understanding.
WE SELL BEER AND FOOD TO GO! Full Menu & six packs, 64oz growlers and 32oz crowlers! 
Let's all stay safe and get through this together.
We are excited to announce new 16oz, limited edition can drops – IN HOUSE AT CORNER ONLY! We're setting our Brewers loose to get creative with small batch, monthly releases. First come, first served! When they're gone…they're gone, so come get 'em while you can!
Our next release drops in mid February, so stay tuned for updates!