WE'RE OPEN
For curbside pickup, and outdoor dining in our heated igloos as weather permits.
After clicking the Fire Pit link above, please scroll down to access the fire pit reservations.
Corner Brewery (Ypsilanti)
12pm – 9pm, 7 Days Per Week
Plymouth Taproom
11am – 9pm, Monday – Saturday
12pm – 9pm, Sunday
BEER AND FOOD TO GO! Full Menu & six packs, 64oz growlers and 32oz crowlers! 
To order curbside pickup, please use the online ordering buttons  or phone numbers below. When you arrive to pick up your order, please stay in your car and call us so we can bring your food and beer out to your car.
CORNER BREWERY ONLINE ORDERING
Ypsilanti: 734-480-2739
Plymouth: 734-233-6201
We cannot refill customer growlers on the spot; We can exchange your old growler for a brand new one or if you don't have an old Arbor Brewing growler, you can purchase a new one. If you have more questions about this, please call the brewery directly.
BEFORE ARRIVING for outdoor dining, please read all of our guidelines:
Thank you to everyone for your continued support! In the face of this unprecedented COVID-19 pandemic we continue to make changes to how we operate with one principle in mind: the health, wellness, and safety of our guests and employees.
We ask you to follow our rules and expectations to keep our guests and employees safe.  If you cannot follow these instructions, you will be asked to leave the premises.  We will take any action we deem appropriate to ensure the safety of our staff and guests.  Thank you for understanding.
New 16oz, limited edition can drops – IN HOUSE AT CORNER ONLY! 
We set our Brewers loose to get creative with small batch, monthly releases. First come, first served! When they're gone…they're gone, so come get 'em while you can!
Currently Available:  Rainbow Fruited New England IPA in 16oz cans and on draft, Orange & Chocolate Liquid Vinyl and Bake Sale Double Milk Stout on draft.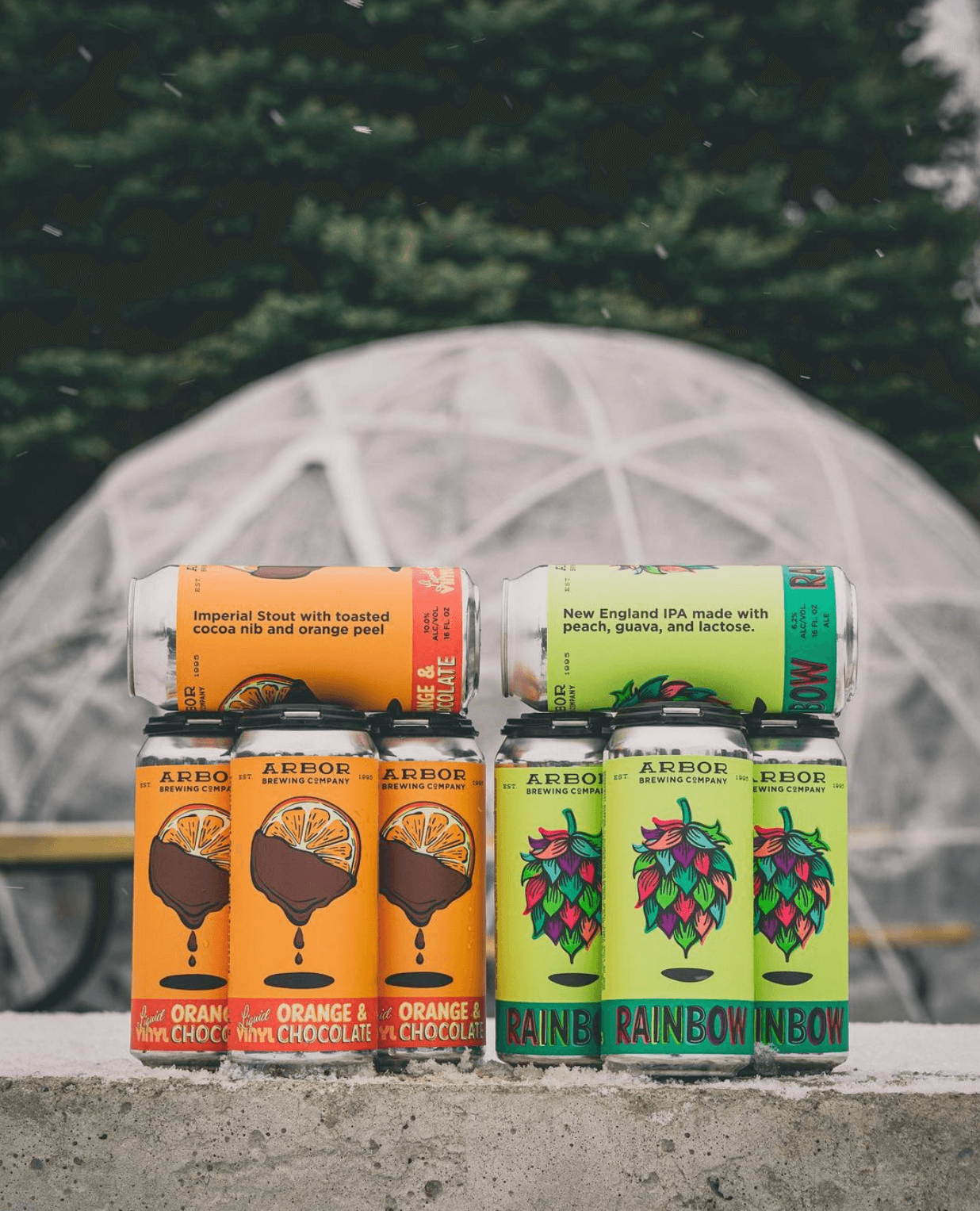 Find our beer
Where to get ABC in your neck of the woods
Or come have a beer with us!
WE LOVE
CRAFT BEER.
Crafting high-quality beer is a balance of art and science, requiring passion and persistence to produce flavorful and consistent beers. 
The brewing staff here at Arbor Brewing Co. has been tasting, brewing, and experimenting with ingredients and processes for 25 years in pursuit of bringing its customers classic beer styles as well as ones that innovate and push the envelope. When you have an Arbor beer, whether it be a classic brand or a new recipe, we're confident you'll taste our commitment to quality and craft.
Cheers!
Jon Wagner, Head Brewer
WE PLANT TREES.
We proudly partner with The Michigan Arbor Day Alliance to plant trees in Michigan!
Our annual, collaborative fundraising initiative provides us and any establishment that serves Arbor Brewing Co. beer the opportunity to join our conservation efforts. With everyone's support, we are able to do a lot of good for the state we love.
In 2019 we raised close to $10,000 and planted over 3,000 trees in Michigan!
Trees act as natural water filters, stream bank stabilizers, habitats for birds and much more. By planting trees in Washtenaw County and across Western Michigan, we are able to protect and preserve both water and air quality.
DONATE TODAY!


Did you know? One tree can lift as much as 100 gallons of water out of the ground and discharge it into the air in one day!
LEARN MORE ABOUT OUR ARBOR DAY INITIATIVE