Find it near you
Locations: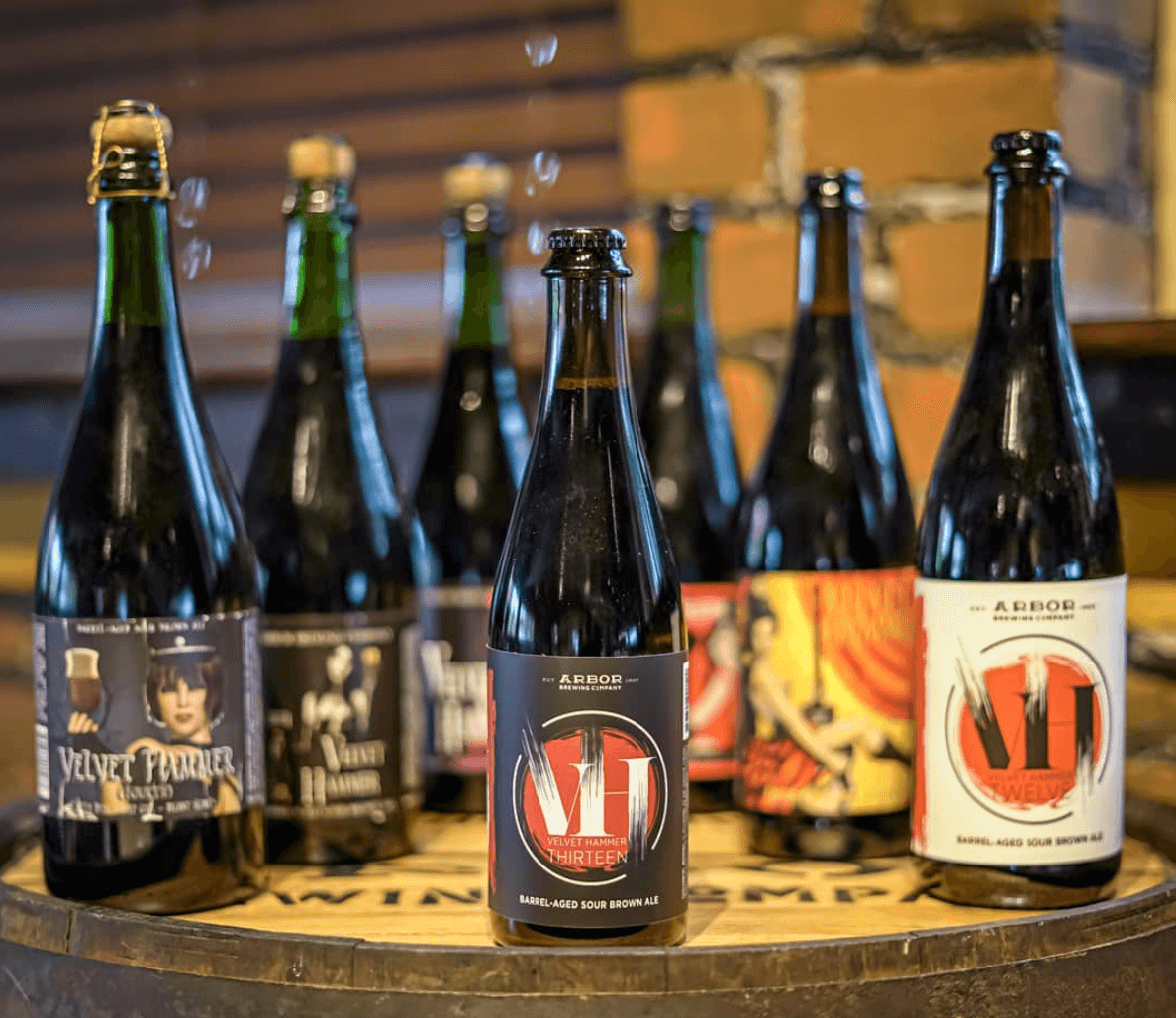 Velvet Hammer Series:
V. H. THIRTEEN Our 2019 Velvet Hammer boasts a creamy, rich mouthfeel with flavors of cherries, stone-fruit and raisin. Woodsy aromas of anise and wintergreen are accented by a festive carbonation making this a complex delight. V. H. TWELVE Our 2018 vintage is rich in aroma with bursts of dried fruit and toasted malt flavor. Flavors of cherries, figs and sweet bready malts all finish off with a tart and pleasant minerality. V. H. TEN Our 2016 vintage showcases Belgian yeast and a complex mixed fermentation character. Belgian yeast brings candy sugar, pear and bubblegum while time in oak adds spiced wine, dark cherries and a balanced acidity. V. H. SEVEN Our 2013 vintage has a distinct mineral aroma reminiscent of Rose along with peppercorn and lemon. The bright carbonation brings flavors of cherry wine and apple with back palate hits of cinnamon and raisin. Finishes dry and refreshing. V. H. SIX Our 2012 vintage starts with aromas of black cherry and a complex earthy aroma. Pomegranate and cranberry notes pair with a richer, fuller flavor of molasses, cocoa and cola. V. H. FIVE Our 2011 vintage pours tawny brown with a thin white foam and has aromas of tobacco and leather with touches of green apple and coriander. A touch of caramel gives way to fruit and bubblegum flavors, all the while finished with notes of aged balsamic.

 

V. H. FOUR Our 2010 vintage begins with subtle aromas of tart cherries and dried figs. The light body and soft acidity lead into flavors of plum, ripe stone fruit, and tamarind.
Availability:

June (While Supplies Last)
Style:

Sour
Shelf Life:

3 years
History
Each vintage of the Velvet Hammer has a slightly different flavor composition as our oak barrels age and mature. But it is always vinous and tart with dark fruits and a moderate acidity with subtle earthy and barnyard undertones.