BEER TO GO!
Here's a list of the six packs we have currently available for curbside pickup or for our guests dining outdoors with us. To order curbside pickup, please call and pay over the phone. When you arrive to pickup your curbside items, please call us and we will bring your order to you.
Trail Lyte Raspberry Ale, Buzzsaw IPA, Euchre Pilsner, Faricy Dry Stout,  Strawberry Blonde Ale, Tilted Earth Winter IPA.
Try something new in a 32oz crowler or a 64oz growler!
Our tap list is always changing as our brewers get creative with new recipes, with the exception of our mainstay beers; Euchre Pilsner, Strawberry Blonde, and Buzzsaw IPA.
| Name | Style | ABV |
| --- | --- | --- |
| Bake Sale | Double Milk Stout | 7.0 |
| Curly Bill | Porter | 7.00 |
| Bigazeit | Kettle Sour | 4 |
| Faricy's Dry Stout | Stout | 4.5 |
| Tilted Earth Series - Autumn IPA | IPA | 6.6 |
| Tilted Earth Series - Winter IPA | Hazy NEIPA | 6.2 |
| Strawberry Blonde | Fruit Ale | 6.8 |
| Buzzsaw IPA | IPA | 6.8 |
| Arbor Classic | Blonde | 4.5 |
| Fischer's Freshie | Pale Ale | 5.7 |
| Celestia | Kölsch | 4.4 |
| Mole Monster | Spiced Double Stout | 9.5 |
| Anecdotal Truth | Hazy NEIPA | 6.4 |
| Arbor Cherry Cider | Cider | 6.3 |
| Sacred Cow | IPA | 6.8 |
| Black Kriek | Barrel Aged Sour Stout | 5 |
To Go: Our draft beer is also available to take home in growlers, and crowlers. We also sell six packs to go.
FOOD!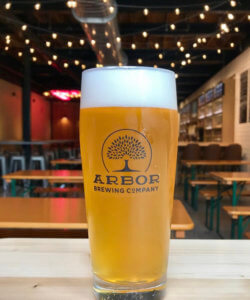 A winter beeR garden
Enjoy safe, outdoor dining in our new, heated igloos!
The Taproom is open for curbside pickup and outdoor dining in our heated igloos as weather permits,  BEFORE ARRIVING, please read all of our new guidelines.
Our igloos seat up to six people from the same household and are decked out with heaters and lighting so you can enjoy them any time of day, in any weather. Wear proper outdoor layers, of course!
A $5 booking fee will reserve your igloo for up to 90 minutes.
We ask you to follow our rules and expectations to keep our guests and employees safe.  If you cannot follow these instructions, you will be asked to leave the premises.  We will take any action we deem appropriate to ensure the safety of our staff and guests.  Thank you for understanding.
WE STILL SELL BEER AND FOOD TO GO! Full Menu & six packs, 64oz growlers and 32oz crowlers! 
Let's all stay safe and get through this together.
PROUDLY BREWED IN PLYMOUTH, MI
Since 1995 we have been a pioneer in the craft beer industry.
Our commitment to environmental stewardship, community involvement, and exceptional hospitality.