Find it near you
Rate:

Locations: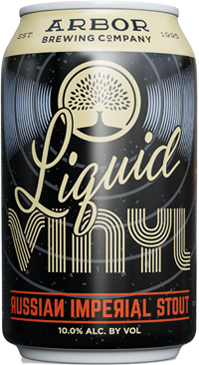 Liquid Vinyl:
Our Russian Imperial Stout is full bodied and complex, with layers of flavors that develop with every sip. Aromas of licorice and dark cocoa yield to notes of sweetened coffee and toasted cookies, before finishing with a light smokiness that lingers on the palate. Like a good LP, this beer will age well and improve with time. Music, beer… some things are best enjoyed in analog.
Availability:

November - January
Style:

Russian Imperial Stout
Shelf Life:

12 months
History
Due to the national aluminum can shortage, we are attaching new labels to our warehouse stock of previously printed cans. This is why the logo at the top is not always aligned with the artwork on the label, and it is why some information from the previously printed can is visible around the edges of our new label.