It is with a heavy heart today that we announce that our original downtown Ann Arbor brewpub will be closing and relocating elsewhere in Ann Arbor. It opened in 1995 as one of the early pioneers in craft beer, and this year marked an incredible 25 years in that same space.
***Note this does not affect our Ypsi and Plymouth locations or our packaged beers. See Below***
Many batches of beer have been brewed in the original brewhouse, but more importantly many pints shared among friends and many new friendships created. However, the businesses realities of operating in this location have changed over the years. They had grown increasingly challenging even pre-COVID-19, and we expect there will be even more challenges on the other side of the shutdown. With the end of our lease in sight we have made the decision to move out of this location.
But with endings come new beginnings and we will be reopening soon in a new location. Ann Arbor is in our DNA and it is important to us to be here. We are evaluating multiple locations now and hope to have more news on that soon. In the meantime we are offering all of the brewpub employees positions at our other locations.
We are also having a "Last Call" at the brewpub with special curbside pickup and delivery deals running until our expected closing date of June 7th. We will continue our $25 Corny Keg Fill sale and our all day happy hour on 64oz growlers and 32 oz crowlers until the last pick up date of Sunday, June 7th. We will have additional sales as well, so please check our social media and website for updates.
As noted above, closing the Ann Arbor brewpub does not impact our other locations in Ypsilanti or Plymouth. Both continue to be open for curbside and delivery and will open for dine-in service when it is permitted. We continue to brew and package beer for statewide distribution out of our Ypsilanti brewery, so there will not be any impact to availability of your favorite Arbor beers.
We look forward to safely sharing beers with you again soon in Ypsi and Plymouth, and to sharing more news on a new Ann Arbor location soon.
Cheers,
Arbor Brewing Company
BEER TO GO!
Here's a list of the six packs we have currently available for curbside pickup and delivery. To order, please call and pay over the phone. When you arrive to pickup your curbside items, please call us and we will bring your order to you.
Tilted Earth Summer IPA, Trail Lyte Raspberry Ale, Pollination Sensation Honey Lavender Ale, Double Cow Double IPA, Strawberry Blonde Ale, Buzzsaw IPA.
Try something new in a 32oz crowler or a 64oz growler! Our tap list is always changing as our brewers get creative with new recipes, with the exception of our mainstay beers; Euchre Pilsner, Strawberry Blonde, and Buzzsaw IPA.
| Name | Style | ABV |
| --- | --- | --- |
| Peninsularity | Michigan IPA | 5.8 |
| Snowglow | Witbier | 4.7 |
| Tilted Earth Series - Summer IPA | IPA | 5 |
| Strawberry Blonde | Fruit Ale | 6.8 |
| Buzzsaw IPA | IPA | 6.8 |
| Euchre Pils | German Pilsner | 5.5 |
| Faricy's Dry Stout | Stout | 4.5 |
| Arbor Heirloom Cider | Cider | 6.2 |
| Sacred Cow | IPA | 6.8 |
| FOGG | Kellerpils | 4.9 |
To Go: Our draft beer is also available to take home in growlers, and crowlers. We also sell six packs to go and 750 mL's of our sour series.
FOOD TO GO!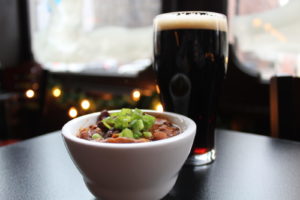 GRAB A BITE TO EAT TO PAIR WITH OUR DELICIOUS HOUSE-BREWED BEER. 
The Brewpub is currently providing curbside pickup and delivery options only. Please call to place an order and pay over the phone.
HAPPY HOUR: ALL DAY EVERY DAY! $5 growler fills with a $10 food purchase! Beer available for the deal: Strawberry Blonde, Buzzsaw, Euchre, Faricy, Hushed Tones, Peninsularity, 3D Printer, Snowglow, and FOGG.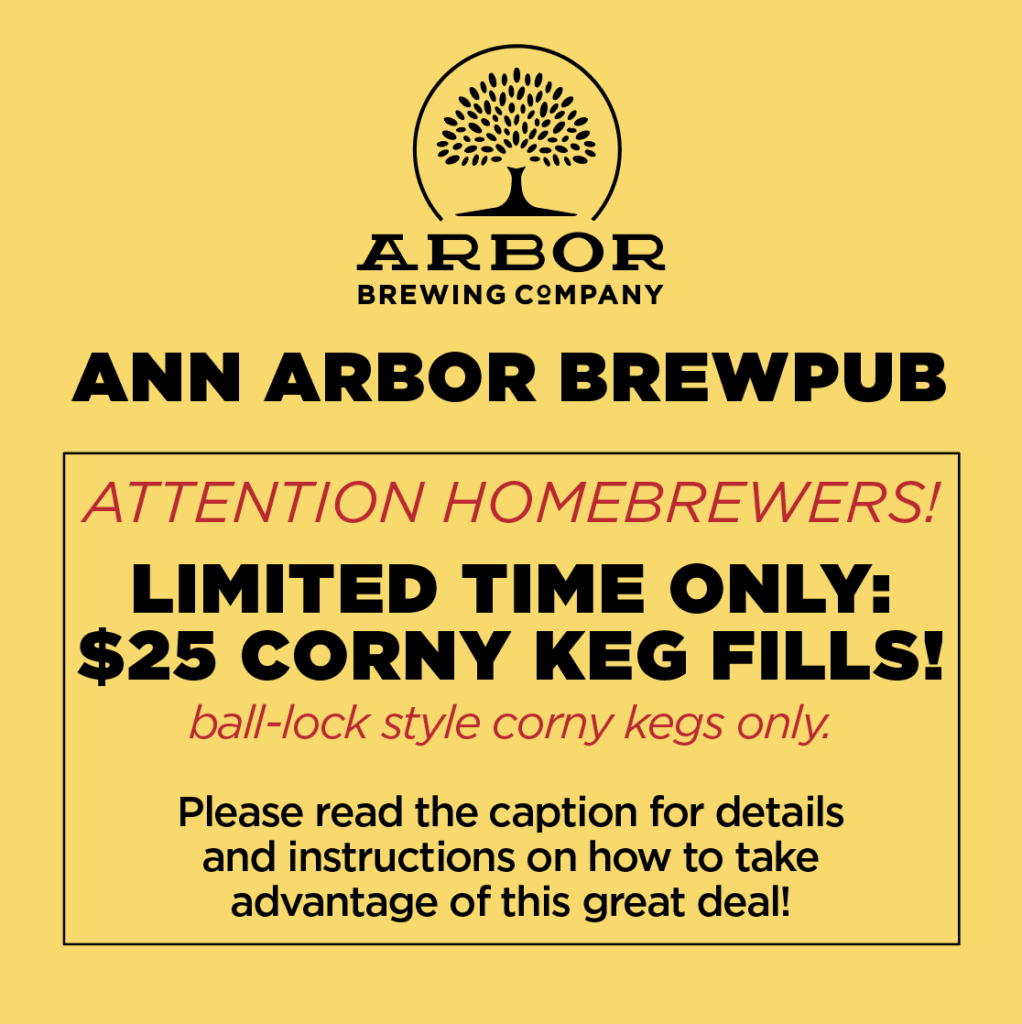 Attention Homebrewers!
Fill your corny kegs (ball-lock style only) with Arbor Brewing beer at our ANN ARBOR BREWPUB ONLY. Corner Brewery and The Plymouth Taproom are no longer participating in this promotion.
ALL BEERS are available for keg fills at the Ann Arbor Brewpub. If you have questions about specific beers, please call the Brewpub directly: 734.213.1393
There is no limit to beer orders and this sale is active while supplies last.
Kegs must be empty, cleaned, sanitized and pressurized with CO2 to at least 10 PSI prior and at the time of drop off. Please do not leave any sanitizer in the keg. We recommend cleaning with brewery-approved cleaners like PBW at manufacturer recommended concentrations and sanitizing with an iodophor sanitizer, again at manufacturer recommended usage and contact time.
Drop offs will be accepted any day, any time we are open UNTIL Mondays at 8pm. Your keg will be filled within a few days of drop off, and we will call to notify you when it is ready to be picked up. When you're preparing to drop off your keg, please tag it with the following information: Your full name, phone number, and the beer you want in your keg.
When you arrive at The Brewpub, please park in our curbside pickup areas and call 734.213.1393 to inform them that you want to drop off a corny keg to be filled. One of our staff members will come to your car to facilitate the rest of the process.
Upcoming Events at the Brewpub