Find it near you
Rate:

Locations: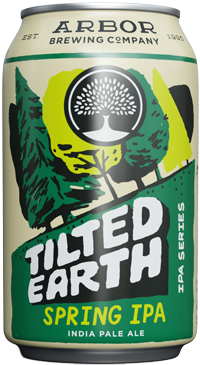 Tilted Earth Series – Spring IPA: Tilted Earth is our Rotating IPA Series, an ode to the changing seasons with an IPA that changes every three months. New season, new beer!

Our Spring 2018 release is a crisp, light-bodied IPA, an ideal complement to a spring day. Brewed with rye and Halcyon malts and then heavily dry hopped with a blend of American and Southern Hemisphere hops; Chinook, Azacca, Australian Galaxy, and Australian Vic Secret. It sports a fruity hop profile with hints of passion fruit, berries and grapes on top of a clean malt bill that lets the hops shine through.
Availability:

April-June
Style:

IPA
Shelf Life:

3 months
History
With Earth being tilted on it's axis, along with a slight wobble, we get the beauty of the changing of the seasons. For the Tilted Earth IPA series, we will take the essence of spring, summer, autumn, and winter, and brew an IPA we feel pairs well with the characteristics we love about each season. Which means… New season, new beer!